The aim of this website is to present our project : a local initiative supported by external funds.
First, the project is to open schools in Ouagadougou the capital, and then in rural areas in Burkina Faso. This is to make up for the lack of spots for students in lower and upper secondary education high school while providing a quality education to the local population. Thus, the goal is to obtain better results in exams and entry tests, and also to improve the schooling rate in the province.
Secondly, we plan to open thematical institutions that will provide both general and professionnal formation. This will allow the students to learn a job, to be operational on the job market more quickly.
The project is headed by Yves Zongo, Literature teacher in Burkina Faso, along with Philippe Montoisy who was born in Africa and works as a journalist at France Télévisions for the past 29 years.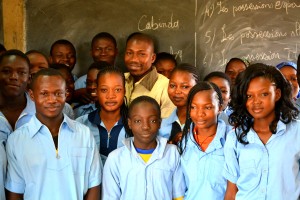 The local founder
Yves Zongo is 40 years old, married with two children. He has a DEUG, a bachelor and a Master degree in Modern Literature from the University of Ouagadougou (1997-2006)
He also got a DESS diploma in Project Management from the University Mercure in Belgium in 2009. He is enrolled in a DEA Modern Literature program at the University of Ouagadougou.
He got a teaching license for both middle school and high school, delivered by the Ministry of education. Here are the references : decision N°2007/148/MESSRS/SG/CNESSP/SP.
Yves Zongo has been a French teacher since 2000. He teaches on occasion from 6th to 12th grade in various schools in Ouagadougou (complexe scolaire Aurore, Groupe scolaire Espoir, etc.).
Support and external funds
Philippe Montoisy was born in Abidjan, Côte d'Ivoire, in 1963. Having spent the first ten years of his life there, he has remained very attached to the African continent which he has been able to visit several times thanks to his job as a journalist. He wanted to invest himself in a long term project to help his « Burkinabè brothers ». Today, he contributes to the setting up and the development of this project by providing a material and organisational support, notably through the search for partners.
The association « Karongasoré » was created after the opening of the first Yilin school in Ouagadougou to allow all those who want to support this initiative in any way.