It is the transcript of « On the way to school » in Mooré language, one of the most widely spoken in Burkina Faso.
Karongasoré is also the name of the association that supports schooling for young people in Burkina. The goal is to develop existing schools and create new schools.
On this website, you will find a presentation of the schools that have been created since 2009 by my Burkinabè friends, and more information about the « Yilin » project we deciced to initiate together in Ouagadougou in September 2014 and which we shall develop since that moment.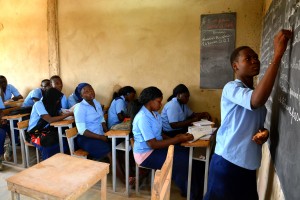 Why in Burkina Faso ?
Africa is a developing continent. Burkina is a country growing day after day despite its poverty and literacy rates.
It is the sixteenth-poorest country in the world in 2015, up four spots from the previous ranking.
This is why it is important to help « the country of honest men » (Burkina Faso), a happy place where women and men are all independent entrepreneurs so they can have a decent life.
Of the 19 million people in Burkina, almost half of them are under 14 years old. Life expectancy  is 58 years of age (2014).
The level of education and literacy is one of the lowest of the world : Burkina Faso is ranked 178 out of 182 based on its literacy rates.
Moreover, although it is mandatory that children attend school, the literacy rates of children aged 15+ reached 28.7% only, and the education level in secondary schools remains below 20%.
Those figures are due to schooling prices that families cannot afford, and to the high number of children per family, which increases tuition fees even more.
On the other hand, the over-crowded classes (between 80 et 150 students per class) make individual follow-ups impossible. Only 1 in 2 children reaches the 5th grade, around 15% attends middle school, 6% high school and less than 2% pursue further studies.
Because I was born in Africa, because this is where I grew up, learned to read, to write and count, because I have always wanted to take part of the development of these people I care about, there was no better idea than creating schools to provide children with the means of succeeding in life.
Philippe Montoisy
Founder of the association Karongasoré