The YILIN school in Ouagadougou
The first institution that we created in Ouagadougou is a high school with 5 classes ranging from sixth to ninth grade. It is located in the neighborhood of Wemtenga, which lacks schooling opportunities for urban youth in the capital.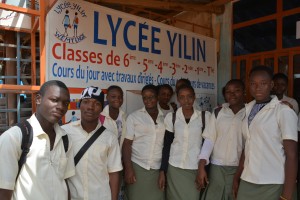 In the Yilin high school of Ouagadouou, we currently have around one hundred students at the beginning of every school year since 2014. The school has a library with textbooks and dictionaries to help pupils in their studies. We have opened a computer room with the same purpose in mind, for students and teachers alike.
The upcoming projects' goal is to make Wemtenga a leading project in the field of general education, complete with a socio-educational aspect to educate young people on important issues in the local context. We also want to provide them an added value over the formal education they are already given.
The development of this socio-educational aspect will include, amongst others : nutrition, hygiene, the mainstreaming of disability and a program to educate young people on the dangers of traffic :
– Nutrition : Setting up a snack point in the schoolyard to allow students who live far to remain on school grounds during breaks, a food and nutrition support and a necessary balanced diet to improve their concentration in class.
– Better hygiene with the installation of separate sanitary facilities for boys and girls in the inner courtyard as well as two sinks for hand-washing.
– The integration of one disabled child per class to provide schooling and adaptation of this population within the educational system (in partnership with Autism without Borders).
– Highway Code courses along with general education program to educate young people on the dangers of traffic and participate in the reduction of car accident risks (major issue in Ouagadougou).
This template is to be reproduced in all institutions created or supported by the association.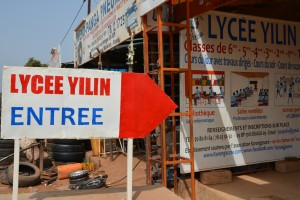 The Yilin school in Yako
This is a general education school of first and second cycle. It opened in October 2015 and has around 200 students. It is located about one hundred kilometers from Ouagadougou.
The following subjects are taught at the school: French, English, History and Geography, Science, Math, Physics, philosophy and physical education.
Karongasoré has provided this facility with books to create a library and computers to provide students with an introduction to computer science in addition to general education.